Mold perfection determines the quality of the ultimate product
LEGROM mold construction
 – a highly qualified team which, through professionalism and enormous energy, has made LEGROM the force it is today:
Superior molds which provide the basis for high-quality plastic components
The core working steps necessary for creating a modern injection mold are, without exception, all realised in-house at LEGROM. An example is our milling machinery for producing mold inserts, mold superstructures and electrodes. Or modern CNC-controlled surface and cylindrical grinding machines for producing mold contours and inserts. Mold contours are machined on wire EDM and sinker EDM machinery. Our machinery inventory encompasses everything from manually operated machines to fully automated sinker EDM machining centres. Mold installation and maintenance is also realised exclusively by LEGROM.
Our services at a glance:
High-performance precision injection molds, with core working steps all realised without exception in in-house processes at LEGROM
In-house project management
Simulation of temperature control, filling behaviour, shrinkage and warping
3D-based mold design (Step, Catia, IGES, Solidworks interfaces)
3D simulations
State-of-the-art equipment
Automated EDM centres
Electrode production on automated HSC milling centres
Palletised hard milling, sinker and wire EDM
Mold maintenance
Prototype production
Mold sizes up to 546 x 646 mm
Cost-effective injection molds from Eastern Europe and Asia
Short delivery durations for injection molds
Prototype molds with a short delivery duration
Time to market
 – a factor which is increasingly important today. It is therefore possible at
LEGROM
to generate parts in good time which correspond to series parts.
LEGROM
has a variety of standard mold forms with different concepts into which mold inserts with different functions can be integrated. Sample parts which often do not differ from series parts can be manufactured rapidly and inexpensively in this manner.
Sophisticated mold concepts enable the realisation of most sprue types, different slide directions and core pulls.
LEGROM offers its customers the chance to create high-quality samples in good time with this concept, and several thousand of these can also be manufactured to a consistent quality level.
We can create prototypes of every kind for you for demonstration purposes, initial trial series or small-scale series:
Stereolithography
Laser sintering
Vacuum molding
3D printing
Milled plastic or aluminium parts
Prototype molds adapted to suit your quantities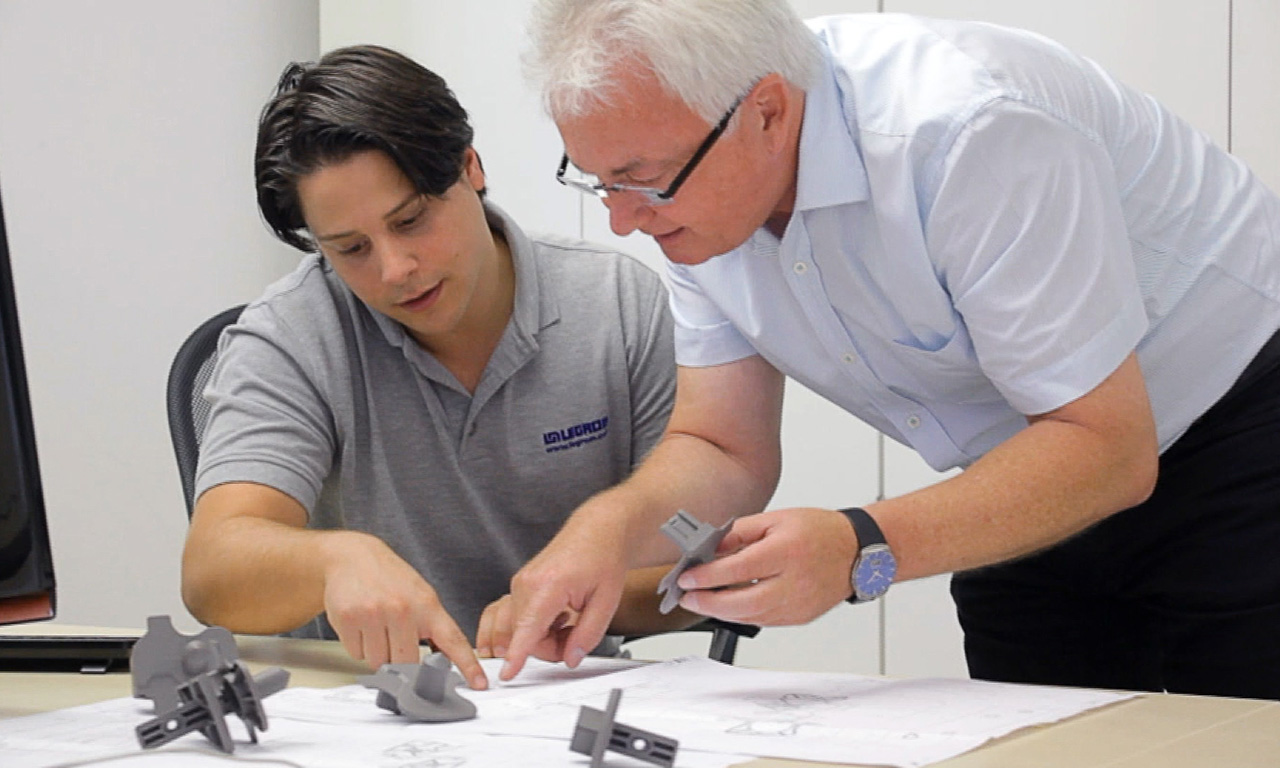 We are happy to help
Your team from Legrom
MON - THU 8am-5pm, FRI 8am-3pm
+49 791 / 956688-0

info@legrom.de