LEGROM
is one of the pioneers in the development, mold design and production of bearing cages made of technical plastics and thermoplastics resistant to high temperatures and has been regarded as a specialist in this area for more than 60 years on a global level.
The first plastic bearing cage, manufactured at that time from Perlon polymer, was created at LEGROM as early as the 1950's.
Use of the latest production techniques and special production processes enables LEGROM to meet even the most unusual customer requests in the modern roller bearing industry.
Needle bearings | Angular contact roller bearings | Linear bearings | Axial bearings | Ball bearings | Thin section bearings | Radial bearings
Thermoplastics for bearing cages
PA 6 |  PA 6.6 |  PA 6T/6 |  PA 6T/6I |  PA 4.6 |  POM | PPA | PES | PEEK | PAEK | LCP
Fillers
Glass fibers | Carbon fibers | Aramid fibers (Kevlar) | Special recipes with mixed reinforcement | Tribologically modified graphite, PTFE
Your direct contact person for bearing cages
Elke Dieterich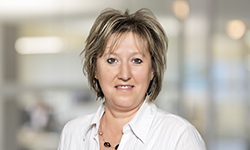 +49 791 / 95 66 88-36